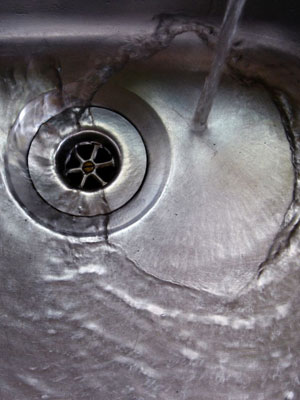 Acme Plumbing has over 50 years experience with the toughest drain clogs. Unlike our competitors, who bring in specialized plumbers with over-stocked trucks to clean a drain, we have expert plumbers whose primary training is drain cleaning. What our competition doesn't want you to know is that 90% of drain stoppages can be cleaned with a standard drain-cleaning machine. This allows us to send you a top quality plumber for such a great price!

Got a bigger job? Like our plumbers specifically skilled in drain cleaning, we also have master technicians with the knowledge and equipment to handle the more serious problems. Acme Plumbing is the local authority on hydro-jetting, video sewer imagery, trench-less pipe lining, and more! 

Drain & Sewer Cleaning

Whether it's a simple blockage or a complete replacement our technicians are trained to solve your problem quickly and with your total satisfaction.
Trenchless Sewer Lining System
We now have the ability to re-line your old sewer line instead of replacing it. When you re-line your sewer, it eliminates all cracks, leaks, holes or roots that may be causing trouble to your system. Re-lining is one pipe from building to city connection with no joints.
Most homes built prior to the early 1970's had residential sewer and drain lines composed of either cast iron or clay. Traditionally, you will find cast iron from property drop to beneath the house (generally near the sidewalk). The primary problem seen is cracking and the bottom of the pipe rusting out. Clay pipes were traditionally used from the property drop to the city sewer main. In most areas, residents are responsible for the maintenance of their lines from house to the city saddle, which is located within 18 inches of the city main. The primary and extremely common problems seen in clay pipes are root intrusion at the joints and cracks.
Root intrusion into sewer pipe systems is reported to cause 50% of all sewer blockages. Interference between trees and sewer systems is likely to occur in older systems and in cracked pipes. Factors that contribute to damage include older pipes with joints, shallow pipes, small-dimension pipes, and fast-growing tree species. Cost associated with caring for root intrusion in the past has been expensive and laborious and, unfortunately, is rarely a permanent fix.
Trenchless technology creates a seamless pipe, which prevents infiltration, and restores the structural integrity of the original pipe, and eliminates the joints which weaken and allow root intrusion.
Calcification in Sewer Lines Over time
Calcium deposits from water form a crusted coating called "calcification" which clogs up household pipes and drain lines, especially when hard water is in use. Once pipes are lined with epoxy, calcification can no longer occur because the deposits cannot adhere to the interior walls of the new epoxy barrier pipe.
Ground Movement Affects Sewer Line Integrity Major
Seismic activity can cause breaks in sewer and drain lines, but more frequently, minor seismic activity causes cracking and structural damage at the joints. The seamless, "joint less" nature of the PIP method means not only is the existing problem solved, but the new, seamless pipe will avert future problems as well.
Benefits
* No destruction to your landscape and very little disruption of your normal routine.
* Significant cost savings over other methods such as sewer replacement.
* CIPP restores structural integrity, prevents root intrusion and increases flow capacity.
* The Trenchless Process is warranted for 50 years.

Call Us Now for More Information - Acme Plumbing 301-352-0800